Day 1 of the trip looks like this in a snapshot:
[googlemaps https://maps.google.com/maps?f=d&source=embed&saddr=Jacksonville+Beach,+FL&daddr=Nashville,+TN&hl=en&geocode=FVoZzgEdWv4l-ymRxAGJ4kjkiDEV_Li1DYUZ3A%3BFQLZJwIdRcbT-ik9kOsTMuxkiDGg2umh0Lk_fQ&mra=ls&sll=36.157281,-86.784439&sspn=0.415798,0.891953&g=nashville,+TN&ie=UTF8&t=h&ll=33.19942,-84.09466&spn=5.93256,5.39606&output=embed&w=1000&h=600]
The quaint Nashville motel we stayed at looked like this in a similar glance: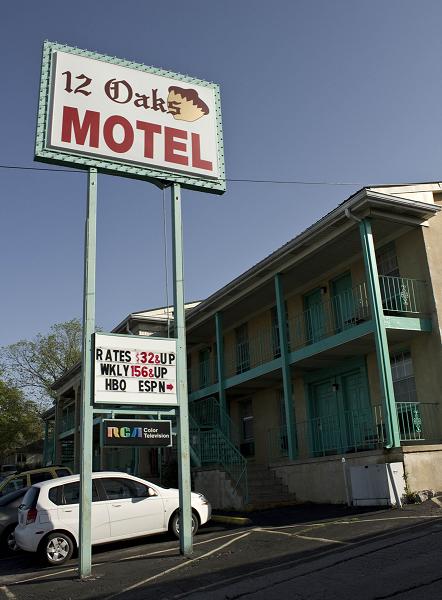 It's best to read a few reviews before walking into a budget hotel.  In fact, do yourself a favor and spend the extra $30 for a room with clean sheets, no drugs and a solid ceiling.  I slept with my clothes on, shoes included.  Here are a few of my favorites:
Management and Employees highly questionable

By A Yahoo! Contributor, 7/9/09

Well first off this place is to expensive for what it offers…The beds don't have a fitted sheet but rather another sheet that comes out if you even sit down on them..There was no shampoo at all…There was actually drug paraphernalia hidden in the vent of my bathroom..The front desk clerk slash manager is a rude older man who can not speak english very well.. If you really need a place to sleep for the night SKIP this place and move on with your search… I have had made the mistake of staying here for a week just do to traveling for work and this is what I got.
If you value your life…

NEVER stay at this hotel. It seems to be mostly occupied by "people" who live there on a weekly rate. Obvious drug and prostitution activity and noise all night. There was actually someone sleeping in the dumpster! The rooms are filthy and the staff are rude and don't communicate very well. The whole place smells like someone cooking all the time. This is a dangerous place and should not only be avoided but closed down.